'DAVID COULTER SOLO ART EXHIBITION – 70 YEARS IN THE MAKING'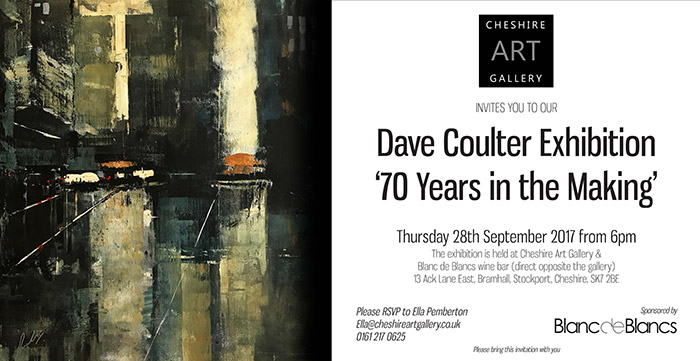 The Preview evening is on Thursday 28th September held at both our gallery & Blanc de Blancs wine bar opposite the gallery.
Exhibition is on from 29th September till 13th October.
We are delighted to announce our first solo exhibition.
David Coulter's '70 Years in the Making'.
It will feature some of Dave's spectacular new paintings which are proving extremely popular. All of Dave's work from our last mixed exhibition sold straight away, and his new paintings don't tend to last very long in the gallery. The exhibition will also include some of Dave's older work. This will be a very special event and definitely one not to be missed from one of the North West's top artist.
If you wish to attend the preview evening or would like an exhibition catalogue please email us or come into the gallery and we will add you to the guest list. info@cheshireartgallery.co.uk
Tel. 0161 217 0625 – www.cheshireartgallery.co.uk
Paintings will be available for sale on release of the catalogue.