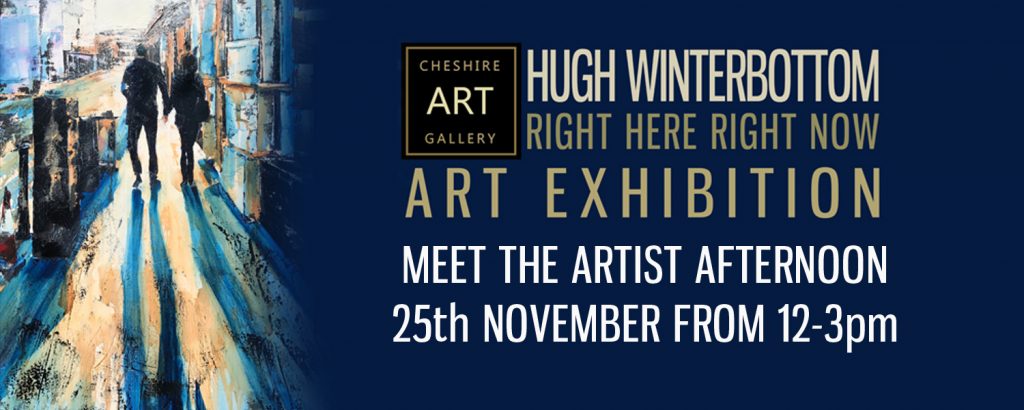 We are excited to be holding a solo art exhibition for one of our favourite artists, Hugh Winterbottom. Since opening the gallery just over 18 months ago, Hugh has proved to be very popular among our collectors and rightly so for a such gifted artist.
This will be Hugh's first solo exhibition since his hugely successful show at Salford Museum & Art Gallery in 2015, so it's very exciting to be involved with such a talented local artist.
Hugh is well known for his fresh, vibrant contemporary style. He is drawn to the colour blue and has been since his childhood, which is why it is featured heavily in most of his paintings. Hugh has completed many major commissions including a large painting for Network Rail at the newly renovated Victoria train station, and ten paintings for the Cities of Hope charity that can be seen in and around the Northern Quarter. Hugh's painting capture urban Manchester and how it is seen today and how its ever evolving perfectly.
Our VIP preview nights have proven to be very popular and we are pleased to tell you that our latest Dave Coulter exhibition sold out. If you were lucky enough to have bought one of Dave's paintings, congratulations and we thank you for your continued support.
We are holding a preview evening on Thursday 16th November from 7pm at the gallery & Blanc de Blancs Wine Bar opposite. We would be delighted if you could join us for a glass of fizz and canapés to celebrate Hugh's latest collection of work. The exhibition will then run until 30th November.
At Cheshire Art Gallery we work hard to bring a different array of artists at various stages of their careers and hope you enjoy their works as much as we do.
If you are unable to make the evening but would like to see the paintings please do let me know and I will be more than happy to post you a hard copy of the catalogue. Alternatively, we can arrange for you to view the exhibition at another time more convenient for you, just call in or phone us on 0161 217 0625.
Images of the available paintings will be available on our website early next week. If there are any paintings you are interested in from the catalogue please get in touch.
We really hope you can make it to see the exhibition and look forward to seeing you soon.
Best Wishes,
Ella.